The Differences Between Static Cling & Self Adhesive Prints
Posted Tuesday, August 19th• by CK • Print Specialist

We have been getting a number of calls recently asking for large format static cling window prints, but there are a number of reasons self adhesive is a better choice when compared with static cling. Low tac self adhesive is a great alternative but some people hear adhesive and think it's tough to install, remove, and leaves a sticky residue. However, that is not the case today.
Large Static Cling Prints Require Installation Using A Water Film
If you are looking for a very large static cling print over 18 x 24", it needs to be carefully applied for long term display. In fact, it needs to be completely wet and applied with a squeegee to cling properly. We have also heard of prints falling down over time in extremely hot and dry locations, usually in direct sunlight. This happens because water is needed to create a good seal and makes the static cling prints susceptible to changing temperature and humidity.
Double Sided Front Facing Static Cling Prints Are More Expensive
Most printers offer single sided static cling material that is printed on the outside "non-cling" side. Meaning, the blank rear side of the print is the side that would cling to a window or glass wall. This means the prints are designed for display indoors and cannot face outside toward walking/driving traffic. If you need "front facing" static cling prints that cling to a window and face outside toward traffic, your printer would use a transparent material that is either printed with white ink or will apply total coverage white laminate to create a block out effect to allow for double sided front facing display. This is generally a more expensive process and many printing companies are not setup for this method of production.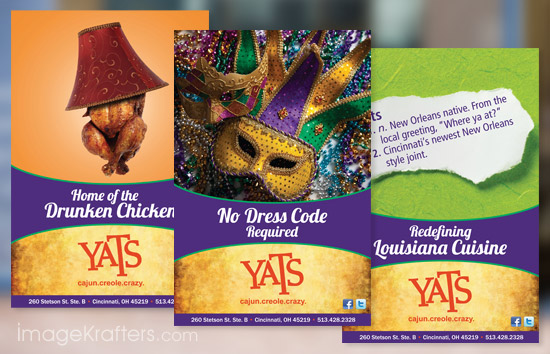 Low Tac Self Adhesive Prints Are Removable & Leave No Residue
We have a great alternative material that is removable and repositionable which uses low tac self adhesive and leaves no residue on windows and flat smooth surfaces. Our self adhesive window clings can be printed single or double sided up to 52 x 96" inches and is perfect for storefront glass windows, smooth walls and doors. These prints adhere to smooth surfaces for short or long term application and are printed on the highest resolution digital presses.
Installation Is Easy
To install, simply peel the first few inches of the print off of the back liner, adhere to the surface and gently pull down the liner to remove it to stick the print on the surface. No water is needed, they will not fall down and can be easily removed and stored for later use.
If you need a quote for an upcoming order, click here.
---
Stay Informed & Save On Printing @ImageKrafters

Joining our mailing also makes you eligible to
receive online printing promo codes and specials we
occasionally offer to our customers and followers.

It is our promise never to sell or misuse your info.
We despise spam like everyone else!
---