Canvas Print File Setup Tips For Stretching and Framing
Posted Monday, December 10th, 2012 • by CK • Print Specialist

Printing on canvas is is an excellent way of presenting artwork and leaves an impression of quality that is only accentuated when stretched and mounted to a frame. However, setting up your files properly for canvas framing will require a little extra work to accommodate the unique specifications. If you are are simply printing canvas that will be cut, rolled and shipped; then all you really need to do is follow the standard commercial printing guidelines such as bleed, resolution, CMYK color space, etc. in the following link. Otherwise, read on. >> Top 5 File Setup Guidelines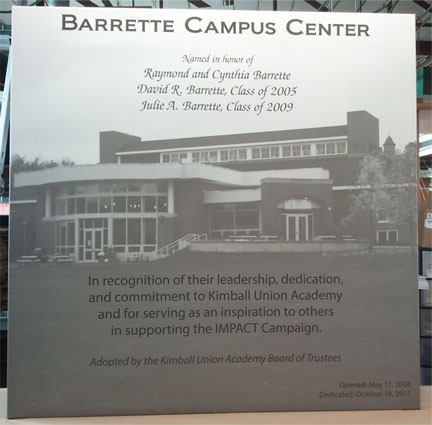 Include "Wrap Around Bleed Area" If Your Print Will Be Framed
If your canvas print is going to be stretched and mounted to a frame then you will need to include a much larger background image bleed area than you normally would for a standard cut print. Consider that a standard wood frame canvas is mounted to is generally 1.5" (1 1/2 inches) thick. This means you would need an extra 3 inches of bleed area for a frame that thick, which is 1.5 inches for each visible side of the frame on display.
Keep in mind, most frames are 1.5" thick but that will depend on the size of your print, as some larger mounted frames require thicker 2" wood frames.  What's important to remember is that you need to account for the 2 visible sides of the frame when thinking about how much wrap around bleed area to add.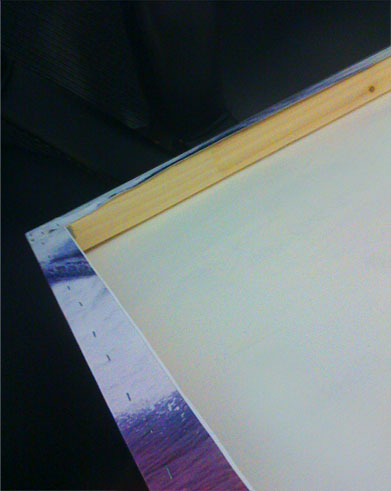 A Quick Fix When Time Is Of The Essence
Once in a while we need to mount canvas to a frame quickly and there is simply no bleed in the file or there is little time to go back to design. If all you need is a few inches of print to wrap around the frame, mirroring your artwork to create the bleed area that would only be visible on the sides of the frame is a good solution. Print located on the sides of the canvas that is mounted to a frame will share the same color tone as the rest of the artwork giving the illusion that the image extends from the front to the back of the wood frame.
Just keep in mind the mirrored artwork isn't truly an extension of the original artwork that is displayed on the front of the canvas print and discerning eyes might notice a difference. In most cases this technique will work well, but should be regarded only as a quick fix to get the job done when time is of the essence. It would be best to include the proper amount of wrap around bleed area from the beginning as last minute corrections during production are never ideal.
Keep An Eye On Minimum Safe Distances For Large Format Prints
Make sure important text and graphics that need to be displayed are at least 1.5" inches from the edge of the printed display size. Standard 1/4" small format safe distance rules do not apply to large format printing and can be difficult to judge when looking at artwork on computer monitor. Consider when looking at larger 24 x 36" size print; 1.5 inches from the edge really unsent that much. We often recommend placing text/graphics a safe distance of 2 to 5" inches or more from the edge of your print, depending on the display size.
Points of Interest:
Be sure and include enough wrap around bleed area when setting up your artwork for canvas prints that are being mounted to a wood frame. You can determine the correct amount of bleed needed by knowing the frame width and then doubling that size to account for both sides of the frame. For example, a 1.5 inch wood frame would need 3 inches of bleed area completely cover each side.


Common size guidelines for framed canvas prints can be found in the size chart below.
Printed Display Size
File Size • Mounted 3/4" Frame
File Size • Mounted 1 1/2" Frame
12 x 12"
14.5 x 14.5"
15.5.x 15.5"
12 x 14"
14.5 x 16.5"
15.5 x 17.5"
12 x 17"
14.5 x 19.5"
15.5 x 20.5"
12 x 16"
14.5 x 18.5"
15.5 x19.5"
12 x 18"
14.5 x 20.5"
15.5 x 21.5"
14 x 14"
16.5 x 16.5"
17.5 x 17.5"
15 x 15"
17.5 x 17.5"
18.5 x18.5"
16 x 16"
18.5 x 18.5"
19.5 x 19.5"
16 x 18"
18.5 x 20.5"
19.5 x 21.5"
18 x 24"
20.5 x 26.5"
21.5 x 27.5"
24 x 36"
26.5 x 38.5"
27.5 x 39.5"
30 x 40"
---------------
33.5 x 43.5"
36 x 48"
---------------
39.5 x 51.5"
48 x 60"
---------------
51.5 x 63.5"
48 x 72"
---------------
51.5 x 75.5"
If you are in the process of setting up your artwork and would like a free file review; please upload your files along with any questions or concerns you may have using the following link. >> File Review
Otherwise, If you are still in the planning stages of a project and need a formal quote from one of our canvas printing specialists, get a quote online or call us for pricing at 877-922-0612 or 516-922-0692. >> Get A Quote Online
---
Stay Informed & Save On Printing @ImageKrafters

Joining our mailing also makes you eligible to
receive online printing promo codes and specials we
occasionally offer to our customers and followers.

It is our promise never to sell or misuse your info.
We despise spam like everyone else!
---