Top 5 File Setup Tips To Ensure High Quality Commercial Printing
Posted Monday, June 18th • by CK • Print Specialist

More and more designers are setting up their print ready artwork and exporting to PDF format which all commercial printers use for production. No matter which program you use whether it be indesign, illustrator, photoshop or quark to setup your artwork; the specifications of the PDF you create will determine the quality of the finished print. Below are the Top 5 file requirements you should follow to ensure your artwork will print as it's best.
1) Use Only High Quality Photography Or Vector Graphics In Your Files
At ImageKrafters we specialize in large format printing, so this particular point is of the utmost importance especially when designing larger than normal prints. Make sure any photos that you are using within your artwork are at least 200DPI or better and have a native size that is proportional to the overall finished size of your print. Meaning, don't stretch a small image to fill a large space or the print will "pixelate", artifact and/or blur when printed.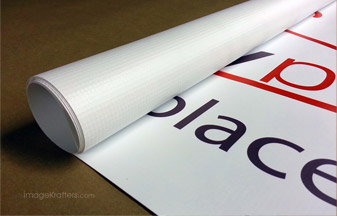 You can also freely use vector based graphics such as illustrations and drawings that were created in vector based print publishing software such as Adobe Illustrator. Vector based artwork can be sized to meet any design requirement without any loss of quality. If you'd like to get more technical; >> more about vector artwork here.
2) Convert All Text / Fonts In Your Design To Outlines
Converting all fonts to outlines will save you time and grief and should be part of your procedure when preparing your files for print, here's why. We like most printers have many fonts that we work with but of course no-one can have every font. So when unique marketing ideas require unique attention grabbing fonts in your artwork; be sure and convert your fonts to outlines to eliminate the possibility of missing fonts or even worse font replacement. Many print publishing programs try to replace fonts when they are missing from supplied artwork; simply converting your files to PDF format will not always solve the problem because of font licensing issues. The only other way to eliminate font issues entirely is to save your artwork as a flattened image format, more on that below.
3) Design Your Files Using The CMYK Color Palette
Both traditional offset presses and commercial digital presses print using a combination of 4 colors refereed to as CMYK, which is an acronym for Cyan, Magenta, Yellow and K (which means black). The combination of these 4 colors are necessary to create the full color images you see printed in brochures, banners, posters, etc. In fact, this is what printing companies are referring to when you see terminology like "4 over 4", "4/4" or "4 color printing". Those terms simply mean full color printing on either one side which would be reflected as "4 over 0" or on both sides which would be "4 over 4". While offset & digital presses differ in the method of how these colors are produced, the colors themselves are the same and is why it's so important that you use the CMYK color palette when designing your artwork.
Computer monitors display graphics using three colors referred to as "RGB" or Red, Green and Blue. Keep that in mind, because when designing your artwork using CMYK colors; what is being displayed on your computer screen is only an emulated version of how the colors should appear. In the very least, the emulated colors give you a starting point and better idea of what your colors will look like when printed.
What's important to remember is to make sure your files are correctly setup for print using the CMKY workspace. If you were to submit files in RGB format and the printing press being used automatically converts the RGB files to CMYK, the difference in color that you intended to print as compared to what actually prints can be extremely dramatic. If that were to happen a reprint may be necessary which means file corrections, lost production time and added costs.
4) Include 1/4" (0.25") Printing Bleed To Your Overall Finished Size
Probably one of the most important and time saving rules to remember when designing artwork for print is to always include at least a 1/4" (0.25") bleed within your design. Bleeds are very easy to understand; they are simply an extra area of background design that will be trimmed off necessary only when you intend to print to the edge of paper or substrate.
For example; If you are printing an 11 x 17" poster that has a deep blue background, it would be nearly impossible to print the blue ink exactly to the edge of the material you a printing on. All printing companies require that you design the blue background to "bleed" off the edge of the paper or substrate you are printing on. In this case, the overall dimensions of your artworks would be 11.25 x 17.25"with the understanding that we will be cutting off 1/4" (0.25") of your print, leaving a clean printed blue background image from edge to edge of the 11 x 17" poster.
5) Export Files To A Format That Does Not Compress Your Artwork
As mentioned above most print publishing software today can easily export to PDF which is the preferred file format for commercial printing. However, you can also export your files to other commonly used formats listed below
The Best Common File Formats For Commercial Printing
.TIFF - Tagged Image File Format
.EPS - Encapsulated Postscript File
.PDF - Portable Document Format
.PSD - Photoshop Document
.AI - Adobe Illusatrator File
.INDD - Adobe Indesign File
.QXD - Quark Document
You should not export your artwork intended for commercial printing using compressed image files formats such as "JPEG", "PNG" or "GIF". These formats are lower in quality and are better suited for display on websites, email, infographics and social networks. In certain cases, all you might have is a "JPEG" format image and need a quick print of a small poster or flyer. JPEG files that are large enough can be suitable for commercial printing but need to be large enough in file size to support the size of your intended print. If you are concerned your file will not meet the requirements for high resolution printing, we'll gladly review your file for free. >> Free File Review
---
Stay Informed & Save On Printing @ImageKrafters

Joining our mailing also makes you eligible to
receive online printing promo codes and specials we
occasionally offer to our customers and followers.

It is our promise never to sell or misuse your info.
We despise spam like everyone else!
---