Wind Banner Flag Details
Most custom printed banner flags take 2-3 business days to print from the time you upload your files and we offer many flag shapes and sizes which can you choose from the quote form above.
Tutorial: How To Setup A Wind Banner Flag In 4 Simple Steps (opens new tab)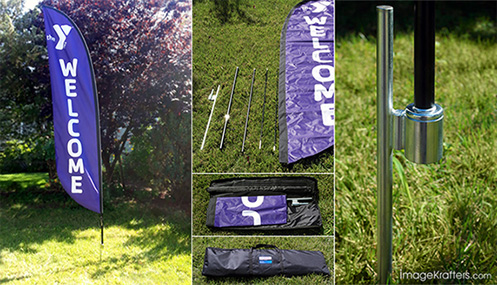 Available Substrate
• Durable Polyester
Ground Stakes
These heavy duty stakes are commonly ordered with our flags and secure your banner to the ground. Ground stakes are recommended for small to medium size flags that will be displayed above penetrable surfaces.
Water Bag & Crossbase
Typically used when standing a banner flag on flat concrete or asphalt surfaces. The water bag adds extra weight to secure your flag in place when a ground stake cannot be used.
Square Base
Also used for securing your flag on a flat concrete or asphalt surface; square bases are made of heavy metal and will hold most size flags in place.